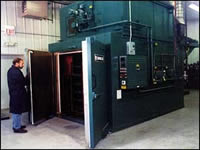 Measuring 6' wide x 10' long x 6' high, our new Grieve gas-fired oven is the latest addition to JC's modern equipment.
For high volume spraying applications on small parts, J&C's spindle machine can automatically and efficiently coat many per hour.
Larger parts can be easily accommodated
in J&C's wet spray booths.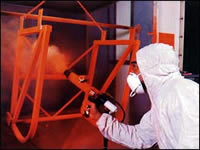 Equipped with a Nordson Tribo
Electrostatic & Sames Coron guns, J&C can handle a wide variety of parts for powder coating.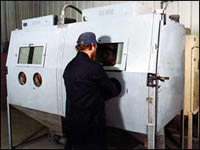 One of four J&C grit blast machines is
used to clean a part prior to coating. J&C features two tumble blast machines to blast high volume orders efficiently.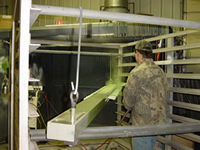 This large beam is receiving a protection coating to resist being submerged in acids.